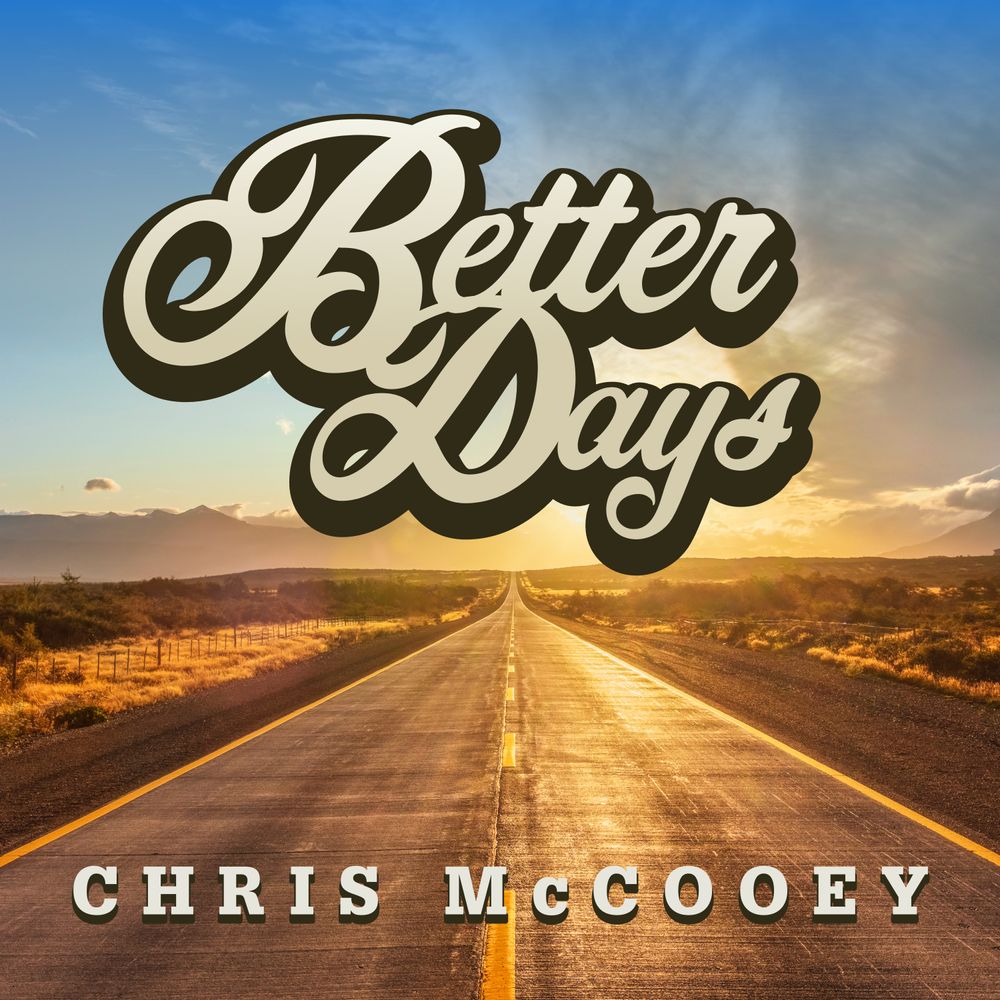 "Better Days" EP is here.
The 6 song EP is out now at all major streaming services
The "Better Days" project, overall, is about reaching for the light at the end of the tunnel. It's optimism seasoned with hard truths, regret and disappointments. Wisdom doesn't come without some pain and scars and the songs of "Better Days" reflect hard earned wisdom through experience and a desire to make a better future for the next generation.
Musically, the project leans into Americana stylings, inspired by early bluesman like Lead Belly, the soul of Otis Redding and the country attitude  of Johnny Cash. The strong presence of multi-instrumentalist Max Butler (Chuck Prophet), expertly takes McCooey's musical vision and paints an inspired and original blend of early influences and newer indie rock sounds and textures. Veteran Bay Area musician, Jennifer Jolly (Zulu Spear), also lends her distinctive, New Orleans jazz inspired keyboard to the songs "Yonder" and "Better Days".
Produced by Chris McCooey and Max Butler
Mixed by Anne-Marie Pleau
Engineered by Dakare Dixon-Essien and AJ Hicks
Mastered by Matt Boudreau
Recorded at East Bay Recorders, Oakland, CA and Creekside Community Church, San Leandro, CA
Players:
Max Butler: Electric guitars, pedal steel, acoustic guitars, bass guitar, synth
Nat Butler: Bass guitar
Thomas DeBourbon: Drums and percussion
Jennifer Jolly: Piano, Rhodes, Hammond
Chris McCooey: Vocals, acoustic guitar, electric guitar
Lewis Patzner: Cello
Anne-Marie Pleau: Piano, synth
Choir:
Max Butler, Nat Butler, Rachel Butler, Elizabeth Martinie, Christian McCooey, Chris McCooey, Joshua McCooey
Photography:
Monique Rardin Richardson, https://foreverpresent.format.com/
Design:
Julie Viens
Chris McCooey: Singer, Songwriter
San Francisco Bay Area-based Singer/Songwriter Chris McCooey is a product of the Bay Area: Born and raised, he has haunted SF, Oakland and Berkeley and they have left their mark on Chris' writing, playing and his voice as an artist. Raised on grooves, heart, twang, soul, gospel and rock and roll, McCooey's unique brand of musical storytelling contains collages, vignettes that recollect and muse about what he has seen, how he has felt and who he has known in these parts of this big world. 
Drawing upon his roots, McCooey's music mixes elements of anthemic heartland rock, country ballads and rhythm and blues-influenced pop. On the lyrical side of things, he deftly explores universal themes and narratives of hope, love, loss, long suffering, aspiration and self-determination. To fully capture his singular vision and unique take on the California sound – something less surf boards and Beach Boys and more of a modern and rootsy style giving nod to 70s-era Golden State singer-songwriters (ala Jackson Browne and Eagles) – McCooey's original songs are brought to life with a 5-piece band of music industry veterans. 
While forming the full band, McCooey reached out to Oakland based multi-instrumentalist, recording artist, music director and local pal Max Butler (Chuck Prophet) . Building out McCooey's adept, seemingly-effortless songwriting prowess, heartfelt guitar work and innately-superb rock vocal croon (exhibiting a near-perfect balance of radio-friendly smoothness and gritty emotional intensity), Butler weaves in his live rock performance immediacy; His years of experience playing live to various audiences around the world act as guide. Joining Chris and Max to round out the sonic landscape as a core band member, SF Bay Area musician, drummer/multi-instrumentalist Thomas deBourbon (Small Crush) brings a youthful energy and edge. 
"I am fortunate to have breath in my lungs and all the blessings I can count and am painfully aware of so many who are less fortunate, McCooey reflects upon his main purpose(s) in life, and in his music. "I hope my time this side of eternity counts for something and I can l eave something behind that matters or means something to someone. This music is one channel on that radio. So welcome aboard." 
In late 2020, Chris McCooey (and his talented band) released his first solo project, the impressive debut EP "Lovers and Cynics". The sophomore EP, "Better Days", will be released Fall,  2021. The EP will be preceded by a string of singles leading up to the much-anticipated drop.